Your smile can leave an unforgettable impression
A smile is one of the first things we notice when meeting someone. I can make an unforgettable impression. Teeth whitening at Spa dentaire Laurier can give you a radiant smile that will generate a lot of compliments. The results are safe and offer a natural appearance.
Why get your teeth whitened by Dr Comeau?
Dr Comeau will examine your teeth and gums to determine if they are healthy enough for whitening. The whitening gel may irritate unhealthy teeth and gums and create sensitivity. It is a good idea to take care of your teeth before having them whitened.
Dr Comeau will also analyze the cause of the stains. In certain cases, teeth whitening may prove ineffective. Dr Comeau has extensive experience in cosmetic dentistry and he will be able to tell you if this is the right solution for you. He will recommend a treatment that best fits your needs, as well as propose other alternatives.
Your options for a radiant smile
Spa dentaire Laurier offers you home-based whitening.
Home-based whitening
We take prints of your teeth to produce custom whitening trays. The personalized trays are adjusted so that the whitening gel that we give you remains sealed against your teeth. The tray facilitates gel penetration through your teeth's enamel and prevents it from irritating your gums. You will be given Opalescence whitening gel, which will give you a brilliant smile.
The procedure is simple:
On a daily basis, add a small quantity of gel into the trays.
Wear the trays all night.
Your teeth will gradually whiten.
After two weeks of whitening, your smile will already appear clearly whiter.
If you want an even whiter smile, you can continue to follow the treatment prescribed by Dr Comeau.
You will be able to periodically touch-up your teeth from home in order to keep your smile as radiant as possible.
The below "before and after" photos of one of our patients illustrate just how efficient a home-based whitening can be.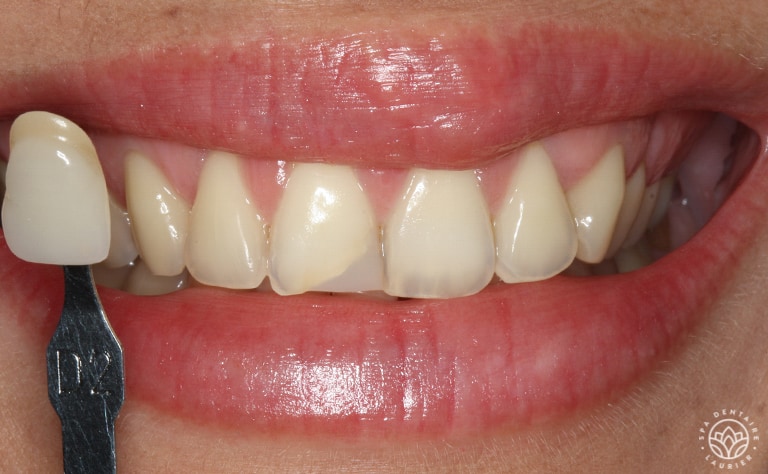 ---