Align your teeth with precision
No metal wires, no braces … no joke! Spa dentaire Laurier proposes the invisible aligners SureSmile® to superbly align your teeth without anyone noticing. What's more, Dr Comeau will use his extensive experience to propose an efficient treatment for you.
What are invisible aligners?
Invisible aligners is a brace-based, metal-free orthodontic treatment that is invisible at conversational distance. Clear aligners are custom designed to perfectly adapt to your teeth. They gently shift your teeth towards their alignment.
Invisible aligners can solve all sorts of problems: exaggerated inter-tooth spacing, bad alignment, overbite, crossbite or crowding.
Before and after: Invisible aligners in 21 weeks
Invisalign® or SureSmile® ?
The two major companies that offer the planning and production of clear aligners are Invisalign® and SureSmile®. A healthy competition has developed between Invisalign® and SureSmile®, allowing dentists to offer these treatments in an increasingly predictable way. High definition scans, the introduction of artificial intelligence in each production step and the further development of 3D printers reduce processing time and increase comfort.
VPro to accelerate Orthodontic treatment
SureSmile Vpro uses a trusted technology called high frequency vibration (HVF) that stimulates orthodontic tooth movement on a cellular level*. When used with your orthodontic treatment for 5 minutes a day, SureSmile Vpro:
May speed up treatment by up to 50%.
Accelerates Tooth movement.
May reduce discomfort.
Reduces Office Visits.
May improve aligner seating.
*Based on results from a pre-clinical study. References for these advantages are available at:
SureSmile® Aligner Refinement Data, data on file 2020. Keim/Vogels/Vogels, 2020 JCO Study of Orthodontic Diagnosis and Treatment Procedures (JCO/October 2020 p. 581 et seq.)
Alansari S, et al., The effects of brief daily vibration on clear aligner orthodontic treatment, J World Fed Ortho 2018. https://doi.org/10.1016/j.ejwf.2018.10.002.
Nicozisis Effects of a 120Hz high-frequency acceleration device on orthodontic discomfort, 2018
Shipley T. Effects of High Frequency Acceleration Device on Aligner Treatment-A Pilot Study. Dent. J. 2018, 6(3), 32
Invisible aligners' Advantages
Aligners are invisible, so people will notice less when you wear them.
Invisible aligners are made of medical-grade plastic, which makes them more comfortable.
You will be able to take off the aligners to eat, which will render chewing crunchy foods easier. You don't have to worry about food getting stuck between your braces.
It will also be easier to maintain good oral hygiene, since you will be able to take off the Invisible aligners to brush your teeth or floss with string or an interdental brush. This will prevent plaque from accumulating or stains from appearing on your teeth, which are common phenomena when conventional braces are removed.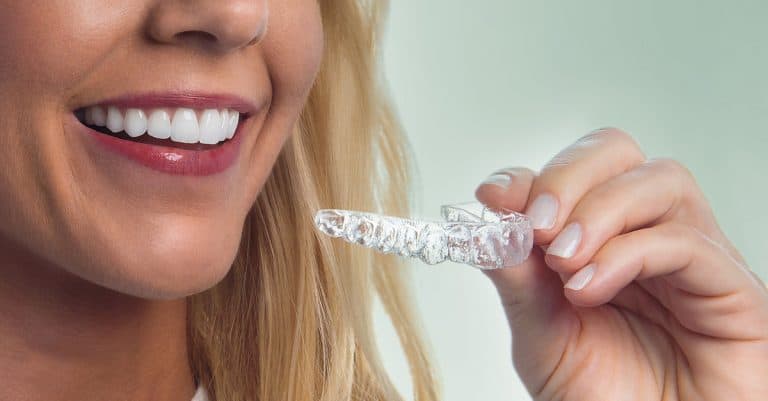 ---